Print: Approaching Storm Over Dandelions
Print: Approaching Storm Over Dandelions
Approaching storm over a field of dandelion seeds. Artist Favorite.
Please click on size and frame color for pricing in the drop down menu.
You can see the frame color options by scrolling further down this page.
The default for ordering all photographic prints online is the Gicle Process, which uses archival, fade-resistant inks that are sprayed onto the substrate and make a detailed and archival print that will last a lifetime.
Giclee Prints: can be produced on any paper you wish from photo paper such as glossy, luster, or matte, to textured or smooth fine art papers. Canvas is also an option and can be stretched in the tradition manor to be displayed without a frame. The default when ordering my photographic prints will be printed on photographic paper using the luster finish. When ordering a framed print, the default process will be a flush mounted photograph with a mat laminate on the top with no glass.
*Please note that on everything larger than 20"x30" plexiglass will be used when shipping.
Laminated:
As stated above, this is now my new default printing and mounting method. More recently I have been getting rid of the mat altogether and mounting the photograph on a heavier more robust substrate then laminating the photograph and putting it right into the frame. The photo is protected with a laminated process with no glass and placed in a oiled barn wood liner frame. The photograph is protected by a 3 mil, mat film that is acid free and contains a UV inhibitor. This process protects the image from uv light, gasses, finger prints, etc. It also has no glare whatsoever and really gives the appearance of looking right out a window. This process works really well with large prints and my panoramas. I would guess 70% of my images are now made this way. When you visit the gallery this is how the majority of them are presented. Keep in mind that because of the lack of mat the image will have to be ordered the next size up to fill the same space as it would with the traditional matted print. A 20x30 print matted would usually end up being 30x40 finished size where as a laminated 20x30 would be about 24x34 depending on the width of the frame.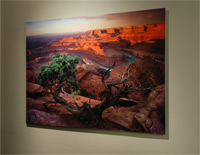 Metal Prints:
These prints are actually made by infusing dyes directly into specially coated aluminum sheets. Because the image is infused into the surface and not on it, your images will take on an almost magical luminescence. Metal Prints are available in 4 different surfaces: High Gloss, Satin, and Sheer with a Glossy or Matte finish. I feel the best finish by far is the glossy. The look is similar to the old cibachrome high contrast, high gloss look. You've never seen a more brilliant and impressive print! Colors are vibrant and the luminescence is breathtaking. Detail and resolution are unsurpassed. Because of the high gloss output you can expect to have glare on the image which is the trade off for the rich and vibrant color that comes with this process. No frame is needed and there are several options on finishes to hang it onto a wall.
These are flush mounted with a black frame that is about 1 inch deep. THEY ARE READY TO BE HUNG.
Additional information
| | |
| --- | --- |
| Size | 16" X 20" Flush Black Metal, 16" X 20" Framed (20"X24" framed edge to edge) Barnwood, 16" X 20" Framed (20"X24" framed edge to edge) Black, 16" X 20" Framed (20"X24" framed edge to edge) Cherry, 16" X 20" Framed (20"X24" framed edge to edge) Dark Walnut, 16" X 20" Framed (20"X24" framed edge to edge) Light Walnut, 16" X 20" Framed (20"X24" framed edge to edge) Small Walnut, 16" X 20" Framed (22"X26" framed edge to edge) Oiled Barnwood, 16" X 20" Metal Print, 30" X 40" Flush Black Metal, 30" X 40" Framed (34"X44" framed edge to edge) Barnwood, 30" X 40" Framed (34"X44" framed edge to edge) Black, 30" X 40" Framed (34"X44" framed edge to edge) Cherry, 30" X 40" Framed (34"X44" framed edge to edge) Dark Walnut, 30" X 40" Framed (34"X44" framed edge to edge) Light Walnut, 30" X 40" Framed (34"X44" framed edge to edge) Small Walnut, 30" X 40" Framed (36"X46" framed edge to edge) Oiled Barnwood, 30" X 40" Metal Print, 5" X 7" Matted (9" X 11.5") |